It's no surprise that I love my MAC eyeshadows so I thought I would do a post showing some of my favourites. I've broken it up into two parts - this first post will feature on neutrals whilst the second post will cover the colours.
I love wearing coloured eyeshadow but you can never go wrong with a neutral brown eye look!
The five shadows I'm going to show you are not in any order preference.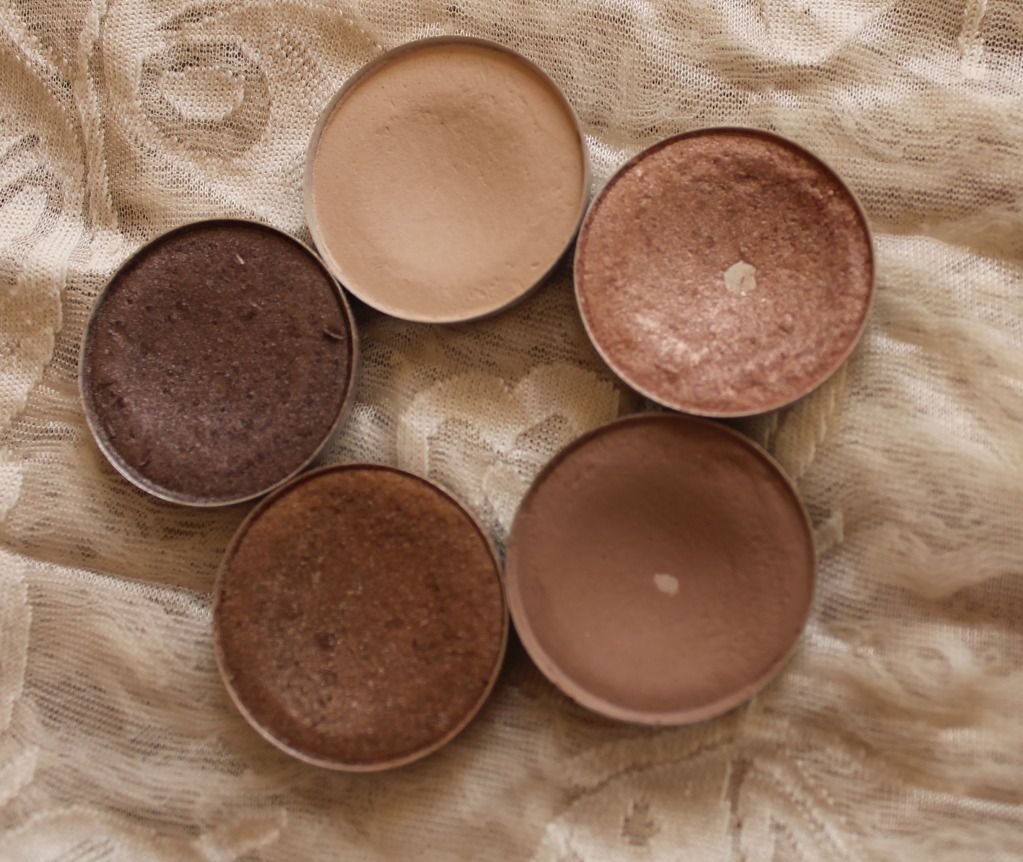 Clockwise from Top - Brulé, All That Glitters, Wedge, Woodwinked and Satin Taupe.
Brulé
is a pale skin colour shadow that brightens without adding shimmer. It is the perfect 'eraser' colour. It can be used to tone down other colours if you have been over-zealous with their application. It's great for use around the brow area.
All That Glitters
is a light brown glitter. It is great to apply all over the lid and above the crease. It's good to use as a base for an extreme look but will just as easily look great all by itself.
Wedge
is a matte light taupe, probably the most versatile of all the shadows. It can be used to darken a crease here, smudge a lash line there, all the while without adding any shimmer. It's like a little magic shadow working away behind the scenes to add that something extra to each eye look.
Woodwinked
is a beautiful, softly bronzed, brown. It's of the veluxe pearl formula which results in it being the smoothest bronze to apply. It's a great addition to the lid area as it really brightens the area and makes it sparkle.
Satin Taupe
is a darker brown with a subtle sheen. it's one of my favourite shadows to use in the crease as it just darkens it wonderfully. It is also great to use on both the upper and lower lash line.
Do you have any favourite MAC neutrals?