I have read quite a few Shopping The Stash blog posts recently (Emma over at
Fluff and Fripperies
is one of my favs) and I decided it was something worth doing. I certainly have a decent amount of make-up and it is inevitable that some things get forgotten about.
Each week I am going to choose a few items that I haven't worn a lot recently and make the effort to use them in the upcoming week. I will keep the items near hand, in a little drawer unit on my make-up table so that I don't forget to use them! Oh, and the chosen items aren't going to be the only items I use for the week, I just want to filter them into my routine.
I don't think I'm going to confine myself to any particular categories just whatever products I feel I have neglected.
Right, let's see what's in the stash for this week!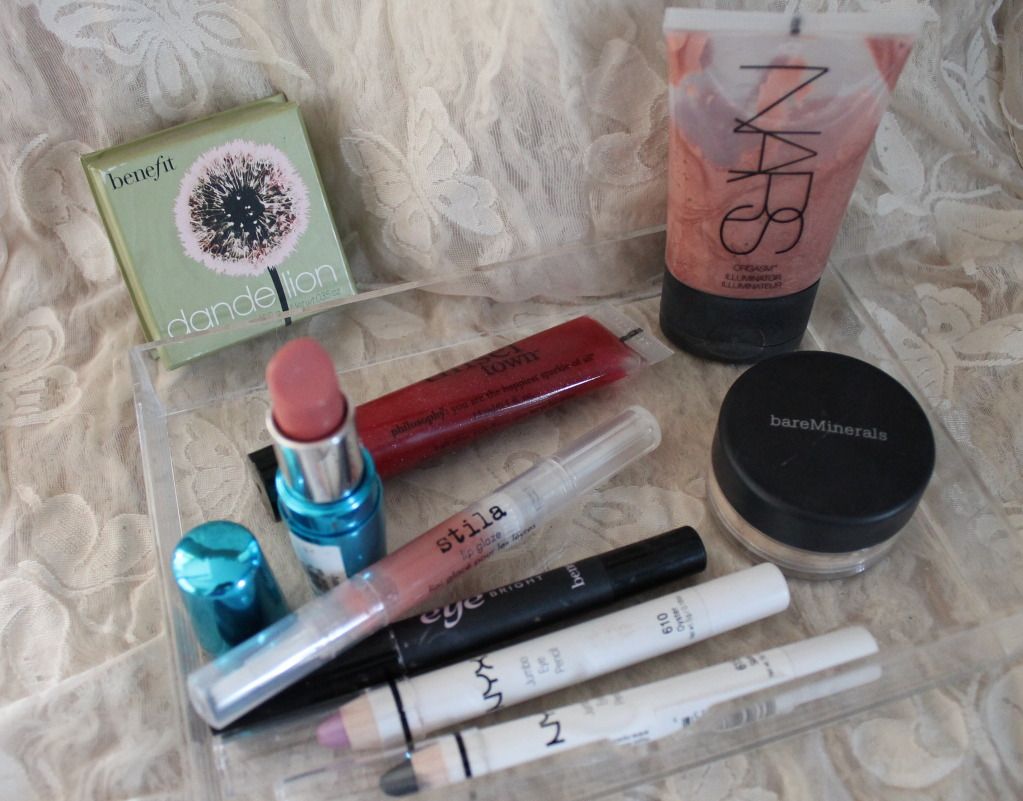 First up is
Benefit's Dandelion
blush. It's a lovely light pink blush that I have been neglecting in favour of darker pink or peach blushes. I also have been ignoring my
NARS Orgasm Illuminator
. It should go nicely with Dandelion.
Lip products for the week will include a
Philosophy
lip gloss in
Tinsel Town
which is a highly pigmented red lipgloss. I am also going to be using my
17
lipstick in
Beehive
and
Stila Lipglaze
in
Grapefruit.
For the eyes I will be using the
Benefit Eye Bright
pencil as well as 2
NYX Jumbo Pencils
in the shades
Oyster
and
Slate
which I haven't used in such a long time. I will also use the
Bare Minerals Well-Dressed
powder under-eye concealer.
So that's it for this week, looking forward to rooting out more for next week!