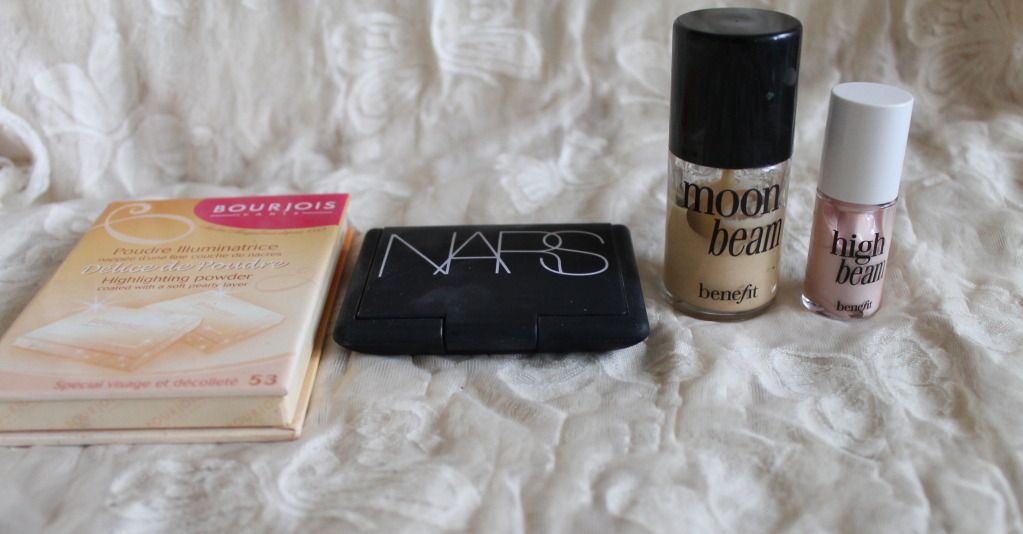 L-R Bourjois Highlighting Powder, NARS Albatross, Benefit Moon Beam, Benefit High Beam.
I love highlighters. I think they give a great glowing and fresh effect and are a simple and quick addition to finish off your look. They really add definition to your cheekbones, even if you don't contour.
I have four 'proper' highlighters (I'll be showing some blush/highlighter hybrids in a later post) 2 powder and 2 liquid. I don't really have a preference for either formula but if I'm in a rush I'm more inclined to reach for a powder as I feel it's quicker to just it sweep on.
The swatches didn't work out too well in the photo, I probably should have drawn lines between them!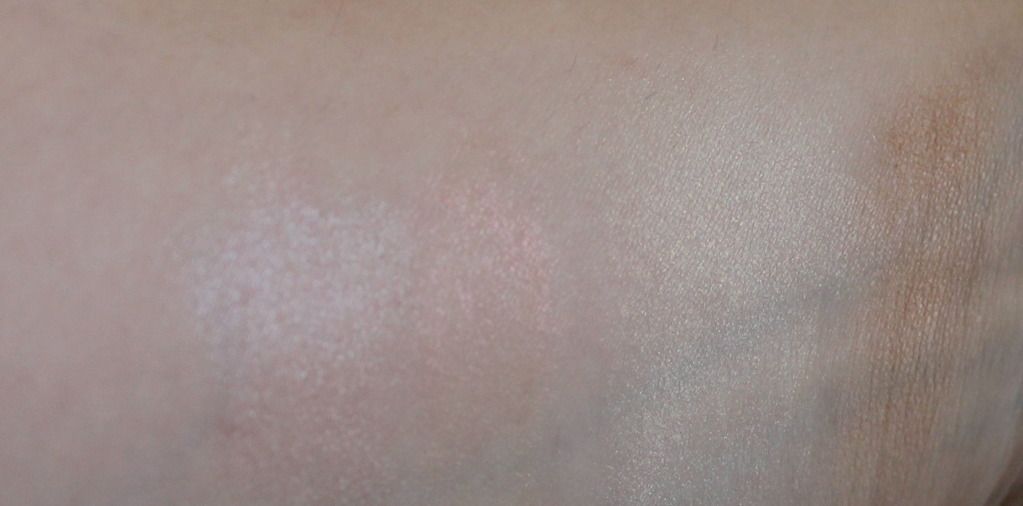 L-R Benefit High Beam, Benefit Moon Beam, NARS Albatross and Bourjois Highlighting Powder.

Bourjois Highlighting Powder: This is the yellowest of all my highlighters. It has a beautiful golden sheen and I feel it works best when I have a tan, so I'm more inclined to use this in the summer or on a night out. Sometimes it is just slightly too powdery.
NARS Albatross: This is definitely my preferred highlighter of the 2 powers. It is a white highlighter, so it is great to use when my skin is at it's palest. It has a high shimmer tendency so you need to be careful not to apply it too energetically or it will look ridiculously obvious.
Benefit Moon Beam: This is another golden toned highlighter. It's very glowy and pretty. I find the liquid highlighters good for using under the brow arch, in the inner corner of eyes and on the cupid's bow. I find they work better there than the powder highlighters.
Benefit High Beam: This is a pink toned highlighter, definitely more cool toned than the other highlighters. It does have an intense sheen, so this is another one that you may need to go easy on.
Do you wear highlighters? Which is your favourite?