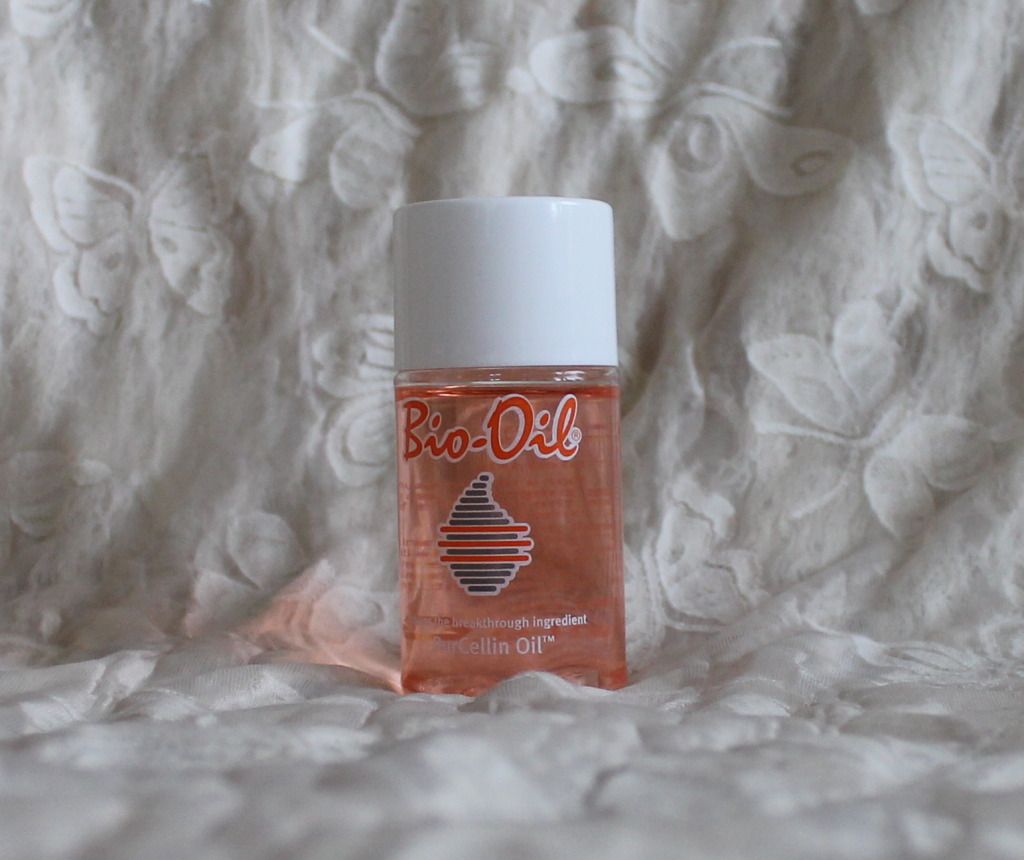 I feel that Bio-Oil is the one product that I've heard the most recommendations for use on scars and stretch marks.
What is it?
"

The Bio-Oil

formulation combines some of the most important skincare ingredients, these include vitamin A and E with Calendula, Lavender, Rosemary and Chamomile oils, plus unique to Bio-Oil
, a revolutionary ingredient, PurCellin Oil™, to ensure they are easily-absorbed deep into the second main layer of the skin where they can provide targeted treatment. PurCellin Oil™ is a breakthrough ingredient, which dramatically lowers the viscosity (stickiness and density) of the formulation to create a "dry" oil which is non-greasy." (You can read even more here.)
One great thing that I have found about Bio-Oil is that it really is non-greasy like it claims to be. I hate the way some face oils make you feel slathered in oil and practically slimy! This definitely has a nice feel to it. Another plus is the soothing and gentle scent it has, which, I presume stems from the oils in the ingredients like Lavender, Chamomile and Rosemary.

What else can it do? Bio-Oil can be used to improve scars, stretch marks, uneven skin tone, aging skin and dehydrated skin.
How did it work: I first used Bio-Oil years ago when it first came out and was hailed as a wonder product for stretch marks. At the time I had stretch marks that most teenagers seem to get after going through a growth-spurt. I used Bio-Oil on those stretch marks and it really seemed to help reduce them, although they were probably starting to naturally fade as well.
More recently, I have being using Bio-Oil for dry skin on my face, in particular my cheeks. I feel that this is one of the uses of Bio-Oil that people often overlook, instead solely associating it for use with stretch marks/scars.
I like to apply it just before I go to sleep, after giving my moisturiser sufficient time to soak in. I have found that by doing this my skin has become way softer and much less flaky.
As most of you know, I have been trying to achieve my ultimate skin care regime to get my skin in order and I feel that the Bio-Oil has definitely made a difference. Not only has it reduced the dryness of my skin, it has also helped to reduce the redness of the old acne scars.
Price: It retails for €11.68 for the small bottle in Boots.


Availability: Boots, most pharmacies nationwide.


I was sent a bottle of Bio-Oil by their PR company.