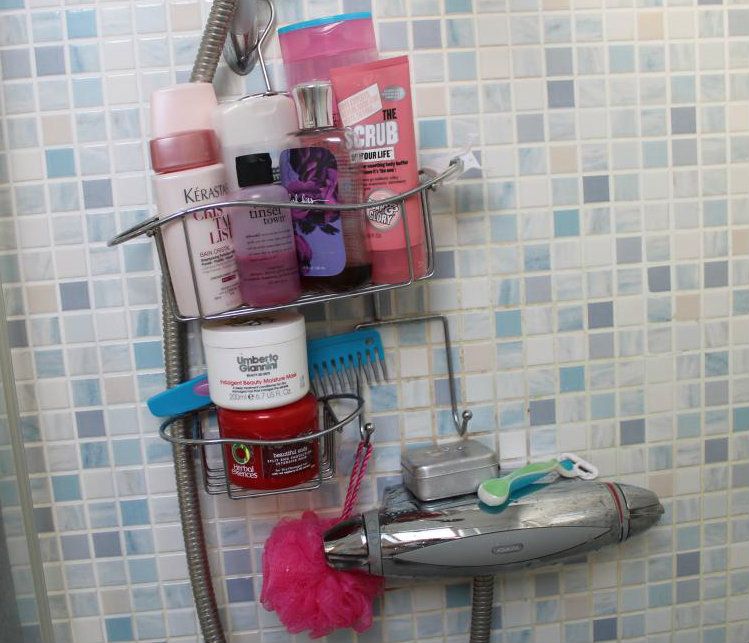 I've seen a few of these videos floating around YouTube and while I initially thought it was a bit odd, it does make sense in the beauty community!
I've mentioned before that I change around my shampoos a lot and I do the same with shower gels etc. The other morning I changed out my shampoo and I realised how all the bottles were in the same colour sprectrum. Perfect time for a photo!
On the top half of the shower rack I keep Kérastase Cristalliste shampoo and conditioner, L'oreal Nutri-Gloss Sparkling Shimmer shampoo, a cheap Tesco conditioner that I use instead of shaving gel, Soap and Glory The Scrub of Your Life exfolaitor, Philosophy Tinsel Town body wash and Bath and Body Works Dark Kiss body wash.
On the bottom little shelf I have two tubs of intensive hair conditioner. A Herbal Essence Beautiful Ends one and Umberto Gianni Indulgent Beauty Moisture Mask. I alternate these two every time and usually use them 1-2 times a week (I wash my hair 3-4 times a week). I keep a wide-toothed comb here as well to brush through my conditioner. I also currently have a pink loofah, pretty.
On the shower thing I have a razor and a Lush tin which currently houses Aqua Mirabillis. I really like this and I think I prefer it to Buffy. I prefer the smell and it's not as greasy feeling.

And that's it for what's currently in my shower. Although I have a couple more bottles of shampoo/conditioner that I'm rotating I'm nearly out of all of body wash and exfolaitor. I'm going to be in Dublin tomorrow so I think I'll have to call into Lush and pick up some of their Christmas products!