Behind the scenes
I've been meaning to do a post on my skincare routine for quite a while now (the photos were take on a sunny day in September!) I've been building my current skincare routine since early 2012. I have gradually introduced new products into the routine and continue using products that worked for me and gotten rid of those that don't. As a result, I now have a fairly solid skincare routine that I have been using since mid-summer. I am extremely happy with it and will continue using most of the products for quite a long time to come. That doesn't mean I'm not going to try anything new ever again but for my main items - cleansers, moisturisers and make-up removers - I am content not to be on the lookout for new alternatives. Items like scrubs and masks, I'm not quite as loyal to but still extremely happy with my current choices.
Firstly a quick skin bio. I have had dry skin all my life. Just about a year and half ago I started to get more and more breakouts and about this time last year my skin was in a very bad state. My whole face was throbbing with the amount of active breakouts on the lower half of my face, I couldn't even sleep on my side it was so bad. This was certainly a shock to my system having gone through my entire teens with about two spots a year. I went to the doctor and got a prescription which was the main thing that helped to clear up my acne and get it out of my system. It took from November 2011 to February 2012 to clear up to any kind of normality but once the active stuff was over with, I was still left with a visual mess of angry, red, scarring and discoloration. That's when my skincare routine sprang into action.
All the products
It does seem like I use an insane amount of products but I have tried using barely anything to using even more than this as well as using extremely expensive products and extremely cheap products. What I have now is my happy medium and it has been working extremely well for me.
Morning Routine
(1)Using a facial wash in the morning just dries out my skin so I just cleanse instead. I use the La Roche Posay Toleriane cleanser and I find it both gentle and effective.
(2)
When I feel the need to, I follow that up with the
Kiehls Cucumber Toner
which is the gentlest toner I have ever used.
(3)Most mornings, unless I have used the Kiehls toner, I will spritz my face with the Caudalie Beauty Elixir. I find it very refreshing although the smell does take a while to get used to.
(4)While I wait for this to sink in I apply the Origins Gin Zing eye cream to the eye area. I've been using this for most of the year and I must say, the longer I use it the more I like it.
(5)Finally I apply my moisturiser, which is another La Roche Posay product, the Toleriane moisturiser. This is a fantastic moisturiser for dry skin, it's thick yet still sinks in quickly enough to make it suitable for a daytime moisturiser.
And that's it for the morning!
Night Routine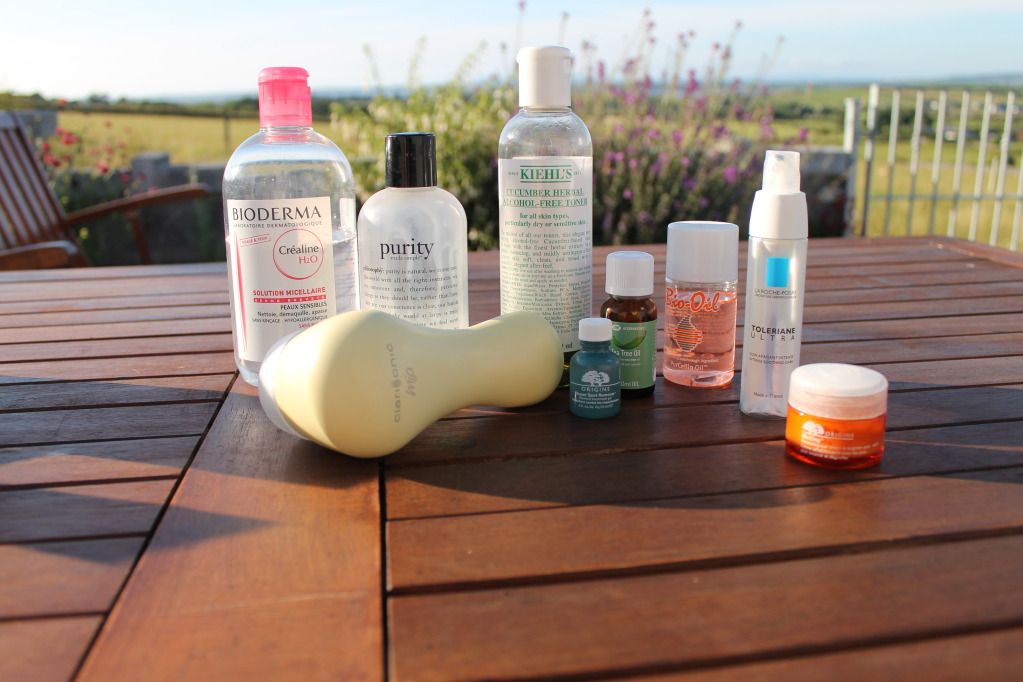 (1)
The first thing I do is remove my make-up with
Bioderma
. Bioderma has been extremely hyped up in the beauty world this year and I have to say that it is definitely worth the hype. It removes all my make-up and is suitable for both face and eyes. It does't sting my eyes which is something that usually happens me with make-up removers, so this is a real bonus for me obviously!
(2)
After I've removed my make-up I cleanse with
Purity by Philosophy
cleanser and I use this in conjunction with my
Clarisonic Mia
. This is a fantastic combination for deep cleaning your skin. It definitely had an effect on the overall apperance of my skin (acne scarring, pigmentation etc.)
(3)I then tone with the Kiehels cucumber toner.
(4)Next if needed, I apply the Origins Super Spot Treatment to any spots or pre-spot areas. Sometimes I use tree tea oil, if the area is very sore or red. I mainly use the tea tree oil to clean any extra make - up from around my nose piercing.
(5)About twice a week I use the Bio-oil on acne scarring to help it fade. I used to use it more, but the scarring is quite well faded at this stage.
(6)Finally, the last two steps are the same as the morning routine - I apply Origins eye cream and La Roche Posay moisturiser.
Extras
The extras are items such as exfoliators and masks that I use once to twice a week.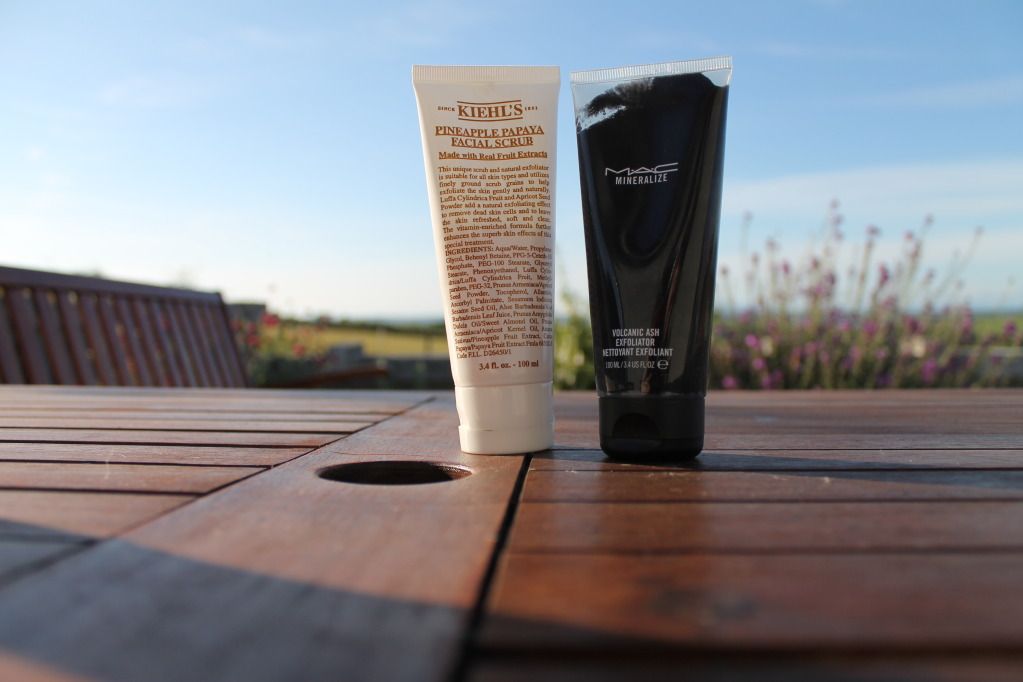 My two favourite scrubs are
Kiehls Pineapple and Papaya Facial Scrub
and MAC's Volcanic Ash Exfoliator. The Kiehls one is very gentle on the skin so I use that more often as it is less abrasive. When my skin needs it I use the MAC exfoliator as it is slightly harsher. It leaves my skin feeling very clean and refreshed.
The La Roche Posay Eau Thermale spray is a refreshing spray that I spray liberally after using one of the exfoilaters. I also sometimes use it instead of the Caudalie Beauty Elixir.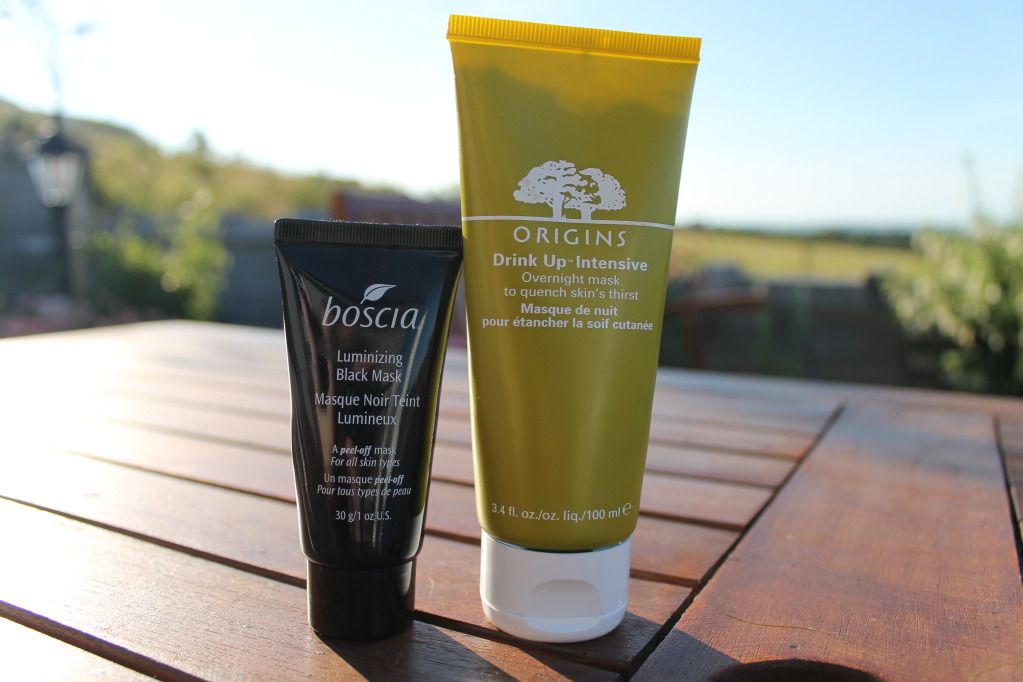 Finally I have 2 masks that I like to use. The
Bosica Black Mask
is a proper mask that you leave on for about 15 minutes before peeling off. It is a product that I have instantly seen glowing results with.
The Origins Drink Up Intensive mask is an overnight mask. It is basically like a thick moisturiser. it smells beautiful and works extremely well in rehydrating my skin.
Well done if you've made it to the end of the post!
What's your ultimate skincare item?